1st Symposium of Plebeian Politics and Philosophy
September 15-17, 2020
Please email cv2272@columbia.edu to RSPV.
This event is organized by Camila Vergara, Postdoctoral Research Scholar at the Eric Holder Jr. Initiative for Civil and Political Rights.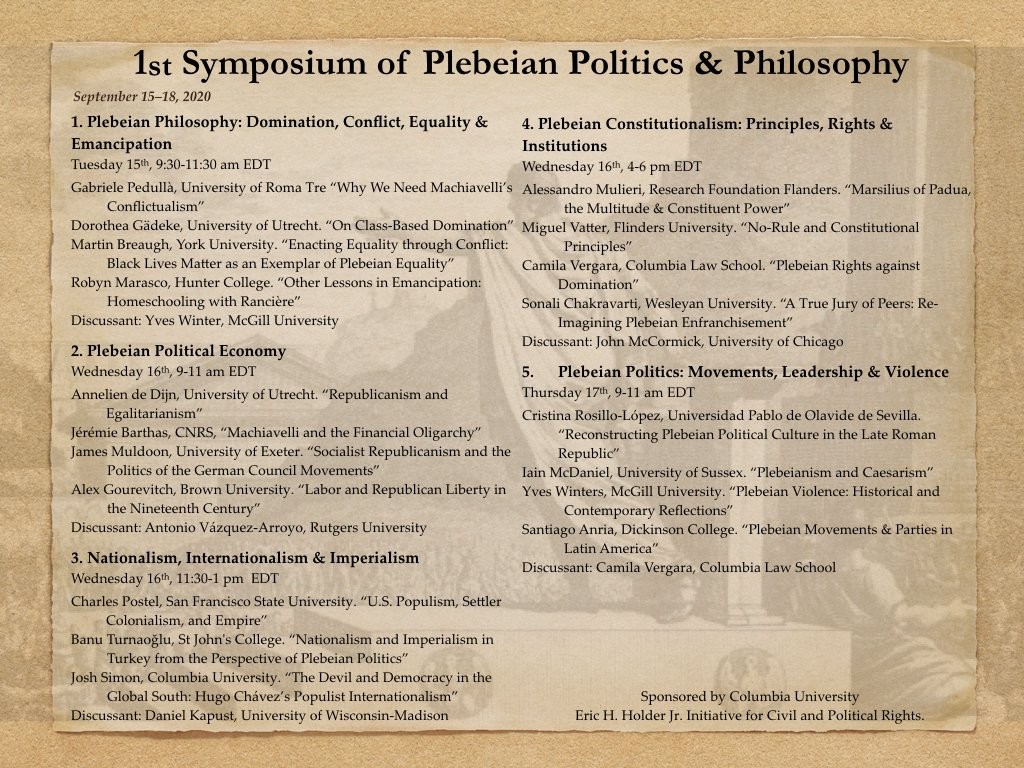 Reflections on The Torture Letters
Wednesday, September 23, 2020 at 6:00pm
REGISTER HERE
A link will be sent to all registrants prior to the lecture.  

In The Torture Letters, Laurence Ralph chronicles the history of torture in Chicago, the burgeoning activist movement against police violence, and the American public's complicity in perpetuating torture at home and abroad. Engaging with a long tradition of epistolary meditations on racism in the United States, from James Baldwin's The Fire Next Time to Ta-Nehisi Coates's Between the World and Me, Ralph offers in this book a collection of open letters written to protestors, victims, students, and others. Through these moving, questing, enraged letters, Ralph bears witness to police violence that began in Burge's Area Two and follows the city's networks of torture to the global War on Terror. From Vietnam to Geneva to Guantanamo Bay—Ralph's story extends as far as the legacy of American imperialism. Combining insights from fourteen years of research on torture with testimonies of victims of police violence, retired officers, lawyers, and protestors, this is a powerful indictment of police violence and a fierce challenge to all Americans to demand an end to the systems that support it.   
Laurence Ralph a Professor of Anthropology at Princeton University. Before that, he was a professor at Harvard University for nearly a decade. His research explores how police abuse, mass incarceration, and the drug trade make disease, disability, and premature death seem natural for urban residents of color, who are often seen as disposable. His first book, Renegade Dreams (Univ Chicago Press, 2014), received the C Wright Mills Award, one of the most prestigious honors in the social sciences. Laurence's second book, The Torture Letters (Univ Chicago Press, 2020) explores a decades-long scandal related to hundreds of Black men who were tortured in police custody. He has been awarded a number of prestigious fellowships for my research, some of which include grants from: the National Science Foundation, the Wenner Gren Foundation, the Carnegie Corporation of New York, and the National Research Council of the National Academies. Laurence earned my Ph.D. and Masters of Arts degrees in Anthropology from the University of Chicago, and a Bachelor of Science degree from Georgia Institute of Technology where he majored in History, Technology and Society. His writing has been featured in The Paris Review, The New York Times, The New York Review of Books, The Nation, The Chicago Review of Books, Boston Review and Literary Hub, to name a few.
This event is presented by Department of Anthropology at The New School for Social Research.
Building Solidarities
September 23, 2020, 4:30-5:30pm
To receive a research guide and link to attend, register by emailing the event title and date to buildingsolidarities@gmail.com.
More information about the event.
This event is sponsored by ICLS, Barnard Office of the Provost, and Barnard and Columbia Colleges Department of Architecture