Human Rights Institute Book Talk: "Authoritarian Apprehensions: Ideology, Judgement, and Mourning in Syria" with Lisa Wedeen
Tuesday, April 14th, 2020 @ 12:10pm to 1:10pm
Jerome Greene Hall, Room 105
Speaker: Lisa Wedeen, Mary R. Morton Professor of Political Science and the College; Co-Director, Chicago Center for Contemporary Theory, University of Chicago.
In conversation with Bernard Harcourt, Isidor and Seville Sulzbacher Professor of Law, Columbia Law School; Founding Director, Columbia University Center for Contemporary Critical Thought.
If the Arab uprisings initially heralded the end of tyrannies and a move toward liberal democratic governments, their defeat not only marked a reversal but was of a piece with emerging forms of authoritarianism worldwide. In Authoritarian Apprehensions, Wedeen offers an analysis of this extraordinary rush of events. Developing an insightful and theoretically imaginative approach to both authoritarianism and conflict, she lays bare the ideological investments that sustain ambivalent attachments to established organizations of power and contribute to the ongoing challenge of pursuing political change.
This event is co-sponsored by the Columbia Law School Human Rights Institute, the Columbia University Center for Contemporary Critical Thought, Columbia University's Middle East Institute, and Columbia's Middle Eastern Law Students Association. 
All are welcome and lunch will be provided. 
---
MUSLIM PERSPECTIVES ON ABOLITION, JUSTICE & ENDING MASS CRIMINALIZATION
Tuesday March 10, 2020 at 12:00 – 1:10 PM
Jerome Greene Hall Room 104
"The frame of ending mass incarceration is great for educating people about the consequences of the war on drugs, but the frame we should use to guide policy reform is ending mass criminalization. Mass incarceration is one outcome of the culture of criminalization. Criminalization includes the expansion of law enforcement and the surveillance state to a broad range of activities and settings: zero tolerance policies in schools that steer children into the criminal justice system; welfare policies that punish poor mothers and force them to work outside of the home; employment practices that require workers to compromise their basic civil liberties as a prerequisite for a job; immigration policies that stigmatize and humiliate people while making it difficult for them to access essential services like health care and housing. These and similar practices too numerous to list fall under the rubric of criminalization."  
– Mariame Kaba, abolitionist scholar and activist 
This event centers the perspectives of four Muslim activists, lawyers and thinkers who are imagining a world beyond criminalization. In their pursuit to end cash bail, prisons and the death penalty, they have long worked to heal and transform communities through frameworks of liberation theology, transformative justice and community-led reinvestment.
Kamilah A. Pickett, JD, MPH is an Atlanta-based critically acclaimed artist, racial equity trainer and public health advocate who specializes in non-profit organizational development and giving advice that makes her mother proud. Kamilah is the National Education Lead for Believers Bail Out and has been advocating at the intersections of health and justice for more than a decade. Kamilah is dedicated to nurturing the physical, mental and social wellness of the communities that have nurtured her, and she believes in a world without cages.
Zaynab Sahar is a writer based in Chicago. Currently Zaynab is pursuing a doctorate in comparative religion at Chicago Theological Seminary and researches the relationship between gender, ritual obligation, and public religious space within Jewish and Islamic Law. Zaynab also researches and writes about spiritual abolition and the theological imagination, as well as abolition and disability. 
Jose Hamza Saldana is Director of Release Aging People from Prison, a grassroots advocacy campaign working to end mass incarceration and promote racial justice through the release of older people in prison and those serving long-term prison sentences. RAPP works to uproot legacies of coercion and racism against Black and other communities of color. As a person formerly incarcerated for 38 years, Jose is a leading community organizer who works to reform parole, clemency, and compassionate release policies. While in prison, Jose earned an associate degree and founded several important rehabilitation, restorative justice and victim awareness programs. He mentored hundreds of people during his years inside and continues to inspire communities to think beyond a system of permanent punishment and a culture of retribution.  
Kei Williams is a queer transmasculine identified organizer, artist, and public speaker. A founding member and former organize with Black Lives Matter Global Network, the aims of Kei's work is to transform the global culture from the individual into a systemic analysis of structural oppression to create radical change. As lead-organizer on campaigns such as Safety Beyond Policing, Swipe It Forward, and Trans Liberation Tuesday, Kei uses their platform to bring in the lived experiences of those who are Black, queer, GNC, and transgender. Currently, Kei operates as the National Organizer of the Marsha P. Johnson Institute and climate organizer at the People's Climate Movement-NY.  
Panel will be facilitated by Fatima Ashraf, who has worked in government, non-profit, and academia for nearly 20 years with a focus on supporting the dismantling of NYC's criminal legal system. She is currently a professor of public policy at City College of New York where she invites MPA students to think critically about US domestic policy and its entrenchment in genocidal, capitalistic and colonial projects.
---
HONORABLE JUST DAVID SMUTS of the SUPREME COURT OF NAMIBIA
in conversation about this new book Death, Detention and Disappearance (Tafelberg, 2019)
Thursday, October 17, 2019 at 6:10pm.
Room 754 Schermerhorn Extension, Columbia University
Honorable Just David F. Smuts is Namibia's most renowned human rights lawyer. In the 1980s, Smuts took on South Africa's apartheid regime, and brought the case that freed detainees illegally held for six years in dark spot prisons deep in Angola. His fight against the torture of liberation fighters and against corruption in the judicial and political systems earned him international renown and local respect.
Smuts, a graduate of Harvard Law School, was appointed to the High Court of Namibia in 2010 and the Supreme Court of Namibia in 2015, and was a founder of the Legal Assistance Centre, formed to fight the abuses of the apartheid government in Namibia. He also co-founded that country's first independent newspaper, The Namibian. In 2019, he was elected as an international honorary member to the American Academy of Arts and Sciences. 
Presented by The Barnard College Department of Africana Studies,the Columbia Center for Contemporary Critical Theory in conjunction with the Committee on Global Thought and the Office of the Executive Vice President of Arts and Sciences.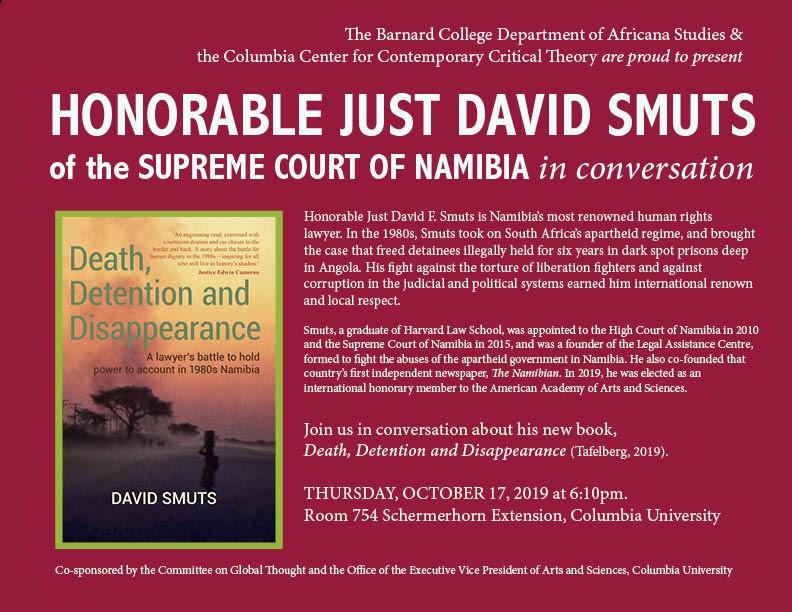 June 2019
---
May 2019
---
Friday, April 19, 2019 at 12:15-2:15 pm
Join the CCCCT and affiliated scholars on April 19th from 12:15-2:15 to hear about recent and on-going work in the field of critical theory. Scholars at the forefront of such research will present their current projects and discuss with other participants.
This event will include presentations from:
Clécio Lemos, Ph.D. of Law, Pontifícia Universidade Católica do Rio de Janeiro (PUC-Rio)
Daniele Lorenzini, Assistant Professor of Philosophy, University of Warwick & Fellow of the CCCCT
Dr Jacopo Martire, Senior Lecturer in Legal Theory, University of Bristol School of Law
Michaela Soyer, CUNY Hunter College
---
Rights and Standing Rock
November 19, 2018, Monday 12:10-1:10
Jerome Greene Hall Room 107
At the height of the standing rock demonstrations in October 2016, North Dakota state and local law enforcement indefinitely closed the primary road connecting the standing rock reservation to the main public sites in contention. The nine-mile road closure, which lasted five months, prevented access to these sites limiting residents' right to assemble, pray, express themselves, and freely travel.
In October 2018, a lawsuit was filed by affected residents.
Join plaintiffs, activists, and lawyers on November 19 to discuss this important and current case.
---
October 17, 2018 12:10-1:10pm
Join the CCCCT, the Columbia Justice Lab, the Columbia Center for Justice, and the Justice in Education Initiative on October 17th from 12:10 to 1:10 for a panel discussion about the unconvicted pre-trial population held on Rikers Island, the wealth-based system of incarceration that cash bail creates, and the October 2018 Mass Bail Out action happening right now in our city, spearheaded by grassroots justice reform groups and the RFK Center for Human Rights. This event will feature panelists working on all sides of this issue:  organizers and leaders, formerly incarcerated New Yorkers, and scholars.This will also be an opportunity for you to ask questions and get involved. 
Lunch will be served.
---
Forms of Pluralism and Democratic Constitutionalism
October 11, 2018, 4:00pm-6:00pm
Heyman Center, Common Room
On October 11 from 4-6pm join the Alliance Program, the European Institute, ICLS, the Center for Contemporary Critical Thought, and Columbia University Press for a book launch and discussion of the 2018 publication Forms of Pluralism and Democratic Constitutionalism with co-editor Jean Louise Cohen (Columbia, Political Science), Fred Cooper (NYU History), Katharine Pistor (Columbia Law), Emmanuelle Saada (Columbia, French and History), Joshua Simon (Columbia, Political Science), and Gary Wilder (CUNY Grad Center, Anthropology).
---
What We CAN Do When There's Nothing To Be Done: Strategies for Change

The Center for the Study of Social Difference invites you to an all-day Symposium to celebrate 10 Years of the Center for the Study of Social Difference and 5 Years of Women Creating Change!
Join us for a day of roundtables and discussion. Find the full program here.

How can we imagine justice, practice solidarity and create change across barriers of social difference in today's political landscape? As the acceptance of inequality has become the new norm to a degree we might have deemed unthinkable, and as public dialogue has reached an impasse, protest and resistance continue.
This conference brings together scholars, artists, and activists from around the globe whose work can inspire new ways of thinking, seeing and listening, and productive strategies of intervention for our time.

Speakers include:
Ayse Gül Altinay
Sama Alshaibi
Carol Becker
Farah Jasmine Griffin
Judith Butler
María José Contreras
Ricardo Dominguez
Masha Gessen
Rema Hamami
Bernard Harcourt
Saidiya Hartman
Mae Ngai
Juan Carlos Ruiz
Debarati Sanyal
Lyndsey Stonebridge
Diana Taylor
Keeanga-Yamahtta Taylor
Jeanine Tesori

CSSD Anniversary Planning Committee:
Marianne Hirsch, CSSD Director
Lila Abu-Lughod 
Meera Ananth
Farah Jasmine Griffin
Jack Halberstam
Jean Howard
Catherine LaSota
Ana Paulina Lee
Frances Negron-Muntaner
Kendall Thomas
Paige West

Presented by the Center for the Study of Social Difference,
with thanks to our co-sponsors:

Center for the Study of Ethnicity and Race; Columbia Center for Contemporary Critical Thought; Columbia Global Centers; Office of the Vice Provost for Faculty Diversity and Inclusion; School of the Arts; Dean of Humanities; Dean of Social Sciences; Department of Anthropology; Department of English and Comparative Literature; Department of Latin American and Iberian Cultures; Division of Arts and Sciences; Institute for Comparative Literature and Society; Institute for Research on African-American Studies; Institute for Research on Women, Gender, and Sexuality; Middle East Institute; Society of Fellows and Heyman Center for the Humanities; Barnard Center for Research on Women; and Barnard College Women's, Gender and Sexuality Studies.
Event Contact Information: 
Center for the Study of Social Difference 
212-854-5665
socialdifference@columbia.edu
---
with a panel discussion including:
Seyla Benhabib, Nadia Urbinati, Jeremy Waldron
moderated by Bernard Harcourt and Adam Tooze
cosponored by The European Institute
September 21, 2018, 6:00-8:00pm at The Heyman Center Common Room