An Action Curriculum for A Just Society 
Overview
Institutions of higher education have a responsibility to redress the gross racial injustices that today permeate our society—injustices that they themselves have contributed to over past decades and centuries. Far too often, these institutions talk about racial injustice and even teach about it, but do not concretely work with community partners to actually redress the patterns and practices of racial discrimination. 
In collaboration with community-based organizations and higher-educational institutions across the country,  the Square One Project and the Initiative for a Just Society have come together to establish the Racial Justice and Abolition Democracy Project (RJAD), a prototype for a national upper-division action-oriented multi-disciplinary curricular program in the humanities, arts, social sciences, public policy, and law. The RJAD curriculum will be designed, developed, and tested collaboratively with community and higher-educational partners and a dedicated, diverse team of scholars at Columbia University. The narrative-changing work of Square One and the practice-oriented justice engagement and abolition democracy work of the Initiative for a Just Society will be part of the curriculum, informing its development and providing opportunities for students and the community. 
Through this process, we hope to demonstrate that justice and education are twin pillars for a strong democracy. The endeavor will demonstrate how the humanities and arts can be integrated with the social sciences, public policy, and law in order to create a more socially just future and contribute to the public's understanding of the centrality of the liberal arts in the project of justice.
"There is nothing more urgent and important today than to reorient our institutions of higher education to the task of achieving racial justice and a just society. This task was the ambition that W.E.B. Du Bois set forth with his idea of 'abolition democracy' and it rings as true today as it did a century ago." 

 
About the Curriculum
The Racial Justice and Abolition Democracy curriculum will be available for adoption, adaptation, and use across the nation in universities and colleges, prisons, and community settings. The curriculum will include a cluster of academic and clinical courses and experiential learning opportunities, with full syllabi and teaching materials, including online teaching resources (videos, lectures, lesson plans) and several MOOCs ("massive open online courses"), all of which will be developed, designed, and tested collaboratively at partner organizations and institutions. Working with a large network of existing partners at the Square One Project and the Initiative for a Just Society, the project will design and provide teaching material that will be suitable for advanced undergraduates or a one-year master's degree spanning the humanities, arts, social sciences, policy, and law. Many of the courses developed for the curriculum will have a practical or clinical component to them, allowing students to combine theory and practice.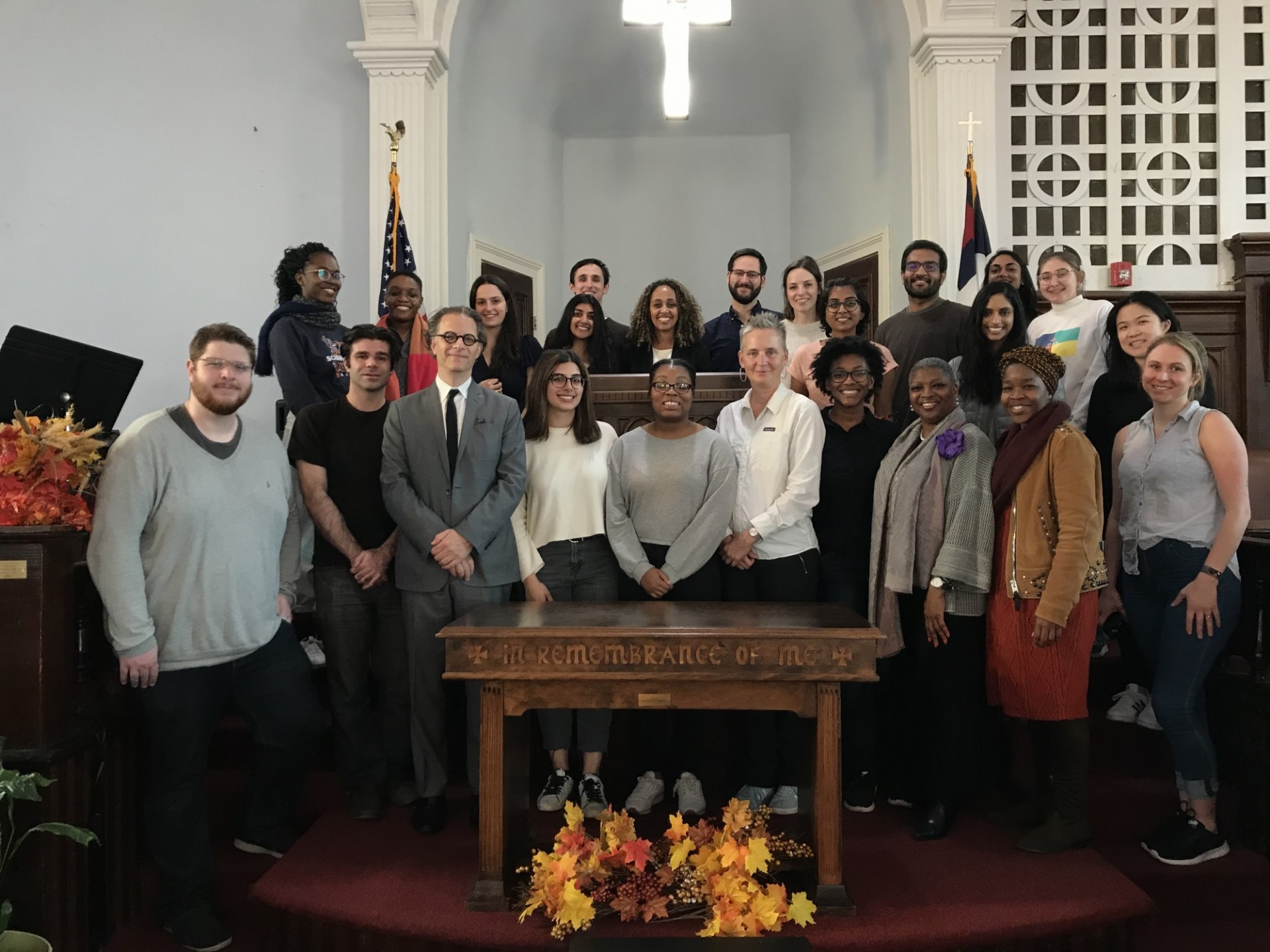 The Abolition Practicum class at The Dexter Avenue King Memorial Baptist Church
Advisory Board
The Racial Justice and Abolition Democracy Project is honored to work closely with a unique national advisory board that brings together academic and community leaders from organizations and institutions around the country. The following advisory board members will contribute to the development, implementation, and broad dissemination of the RJAD project and curriculum:
Vivian D. Nixon is the Square One Project's Writer in Residence. In this role, Vivian contributes to the ongoing work of Square One and the Justice Lab. In addition to her own writing, Vivian provides leadership to the Racial Justice and Abolition Democracy (RJAD) Project, a joint initiative of Square One and the Institute for a Just Society; and will guide the continued development of Square One's work on racial reckoning and the future of justice. Vivian comes to the Square One Project after 20 years as the Executive Director of College & Community Fellowship (CCF), a nonprofit dedicated to helping women with criminal convictions earn college degrees. As a formerly incarcerated woman and CCF program graduate, Vivian has been a leader in the movement to ensure that justice-involved women and their families have a better future.
Lorraine C. Taylor is Executive Director of the Juvenile Justice Institute, located in the Department of Criminal justice at North Carolina Central University in Durham, North Carolina. In this role, Lorraine leads efforts to influence juvenile justice policy and practice by providing and supporting quality research, information, and technical assistance to youth system actors. Her work is guided by a "ecological systems" approach that evaluates how institutional, community, and individual level factors influence youth outcomes. She has a B.S. from Howard University and an M.A. and Ph.D. in Developmental Psychology from the University of Virginia.
Barbara L. Jones is the Community Dispute Resolution Specialist and Faculty Instructor for the Center for Peace and Conflict Studies Program at Wayne State University in Detroit, Michigan. Barbara is a lifelong community activist, organizer, restorative justice practitioner, and youth violence prevention advocate and works in a variety of settings in the Detroit-Metro area. She holds a B.S. in Mass Communications from Rochester College, and both an M.A. in Conflict/Dispute Resolution and a Graduate Certificate in Peace and Security Studies from Wayne State University.
Pastor Michael McBride (known as "Pastor Mike") is a native of the Bay Area and has been active in ministry for over 20 years. Throughout the years, his commitment to holistic ministry can be seen through his leadership roles in both the church and community organizations. In March 2012, he became the National Director for Urban Strategies/LIVE FREE Campaign with the Faith in Action Network, a campaign led by hundreds of faith congregations throughout the United States committed to addressing gun violence and mass incarceration of young people of color. A graduate of Duke University's Divinity School, with an emphasis in Ethics and Public Policy, Pastor Mike planted The Way Christian Center in West Berkeley, California, where he presently serves as the Lead Pastor.
Jason Seals is an African-centered educator, carrying the tradition of activist-intellectual to address critical systemic issues and empower individuals for personal and social transformation. An Oakland native, Jason has over two decades of experience serving his community locally, nationally, and globally as an educator, thought leader, speaker, and change agent. While completing his B.A. in Sociology at San Jose State University, Jason began his career in youth development serving in multiple roles across the nonprofit, mental health, and juvenile justice sectors. After obtaining his master's in Africana Studies from the University of Albany, he leveraged his love for transformational educational practices and Africana studies in the classroom, teaching ethnic studies and manhood development courses at multiple high schools, colleges, and universities across the Bay Area. Jason earned his M.Ed. in Counseling Psychology from the University of San Francisco. He currently serves as the Chair of Ethnic Studies and Professor of African American Studies at Merritt College in Oakland, California.